Tour Packages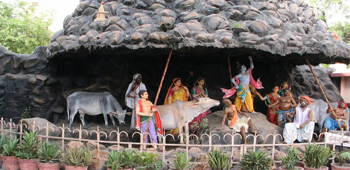 Day 01 : Vrindavan
Afternoon visit Vrindavan , where Lord Krishna spent his childhood days , played the flute sporting with the Gopis and where Radhika pined for her lover. Visit the Govind Dev Temple – built in 1590 and a testimony to the architectural splendour of medieval India. Proceed to Rangaji Temple – Vrindavan's longest temple constructed in 1851 with a 50 feet tall ' Dhwaja Stambha ' believed to be gold – plated. Continue to Madan Mohan Temple situated near Kali Ghat , Prem Temple and the Bankey Bihari Temple – one of the oldest temples built in 1921. Overnite with Dinner at hotel.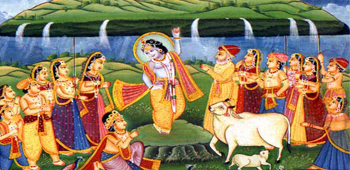 Day 02 : Goverdhan / NandGaon / Barsana / Mathura
Morning visit after Breakfast Nand Gaon – the house of Lord Krishna's foster father Nand , in whose memory stands the 19th century temple. A little beyond is Pan Sarovar – one of the four most celebrated lakes in Braj. Continue to Barsana – the birth place of Radha – with temples in reverence of Ladliji (Radha ) . Also visit the water tank ' Prem Sarovar ' , the first meeting place of Radha – Krishna. Continue to Goverdhan – where Lord Krishna held aloft 'Giriraj' , the sandstone hill on his finger for seven days and nights to protect the people of Braj from the wrath of rain and thunder sent by Indra.
Evening Visit to Krishna Janam Bhoomi & DwarkaDeesh temple and Vishram Ghat.
Overnite with Dinner at hotel.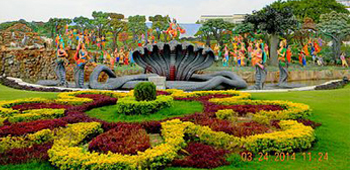 Day 03 : Gokul
After Early Breakfast and Drive to Gokul where Nand Gopal was sheltered in Yashoda Maiya's home in secrecy to escape the wrath of tyrant Kansha. Also visit Gokul Nath Ji Temple. Proceed to Mahavan – believed to have cradled Lord Krishna. Visit 'Assi Khambha' the temple dedicated to Mathura Nath Ji. Bring Back to Hotel to collect Luggage and Leave for Delhi